Programs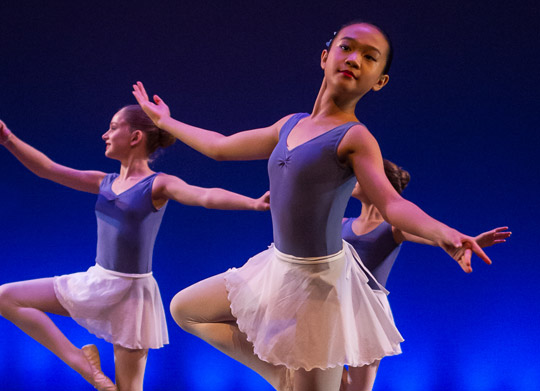 The comprehensive curriculum teaches a strong classical technique, and its elective classes are designed to allow for individualized training at every level of interest and ability. Class sizes are limited so that the faculty can provide personal attention and correction.
Studied of the School develop self-motivation, self-discipline, poise, grace, physical awareness and an appreciation for the arts, which they carry with them throughout their lives.
Stage experience is an integral part of the artistic training. Students have the opportunity to perform with Mystic Ballet.
Programs:
Pre-Primary (3 1/2 – 4 years old)
Primary (5 – 6 years old)
Grade 1 – 4 (7 – 13 years old)
Grade 5 – 7 (13 – 18 years old)
DO YOU KNOW?
MB Junior Company dancers receive exceptional technical training with exposure to all dance genres and a range of dance performances — all on par with top-notch college dance programs. After moving through the program, MB Junior Company dancers are ready for admission into premiere dance programs, conservatories, and universities or to work in the theatre, entertainment industries, or to teach dance — right out of high school!
AT MB Junior Company, dance training consists of multiple disciplines, such as Ballet and Pointe, Jazz, Lyrical/Contemporary, Modern, Musical Theatre, and Hip-Hop. The curriculum focuses on strengthening the dancers physically and educating them in all areas of dance, including history, nutrition/anatomy, choreography, teaching techniques, and more.
The privilege of having a world class dance company, Mystic Ballet sharing the facility and its artistic staff, the world's top choreographers, and industry professionals, with the school, is a unique opportunity which you may find only in Boston or New York, and is greatly beneficial for our students.